Improve the efficiency of your air conditioning system by up to 30% -- resulting in a short return-on-investment (ROI) -- with Aircosaver.
Innovative Facilities Solutions has partnered with Innovation Thru Energy offering one of the newest advances for improving energy efficiency of your air conditioning (AC) system.
Aircosaver is an electronic control unit that adds state-of-the-art intelligence to existing AC systems. The Aircosaver constantly adapts its setting to ensure efficient operation of all AC systems -- even those with differing weather conditions. 

Making existing AC systems more efficient is BY FAR the quickest, most affordable and most effective way to reduce your CO2 emissions and LOWER your facility's energy bills.
How it works:
Aircosaver has sensor-driven software designed to detect thermodynamic saturation and optimizes AC compressors. When overcapacity is detected, the Aircosaver switches the compressor OFF and avoids inefficient over-cooling. The "saver mode" allows the AC system to make maximum use of the stored cooling energy in the evaporator. Once the supply side of the evaporator detects when the stored energy is depleted, the compressor is switched ON and it works efficiently again.
Aircosaver is compatible for most commercial AC systems (wall mounted, single split systems, cassette units and roof top units). The retrofit system is quick and easy to install in just 15-30 minutes.
Features & Benefits
Separate version for all main power supplies (230v, 110v and 24v)
Optimized for systems up to 10-tons
Anti short-cycling protection and overall compressor protection
Enclosure made of non-flammable shock-proof polycarbonate
Tested and compliant with international product safety standards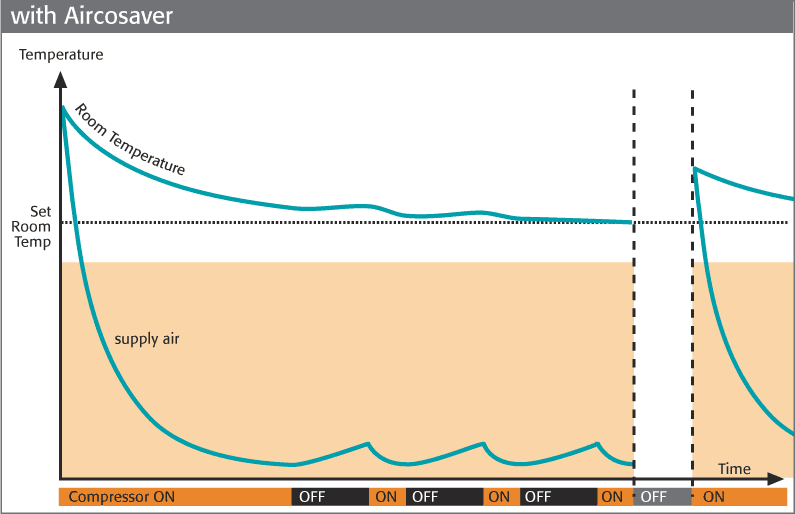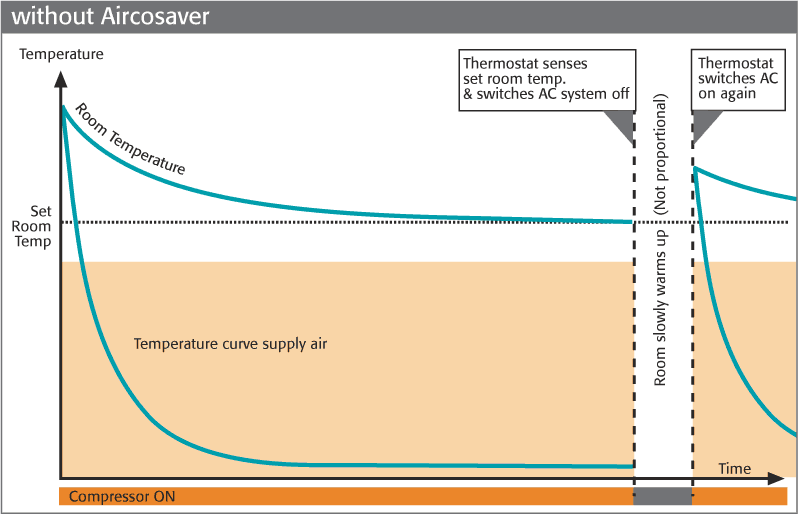 See the difference for yourself. Call your Innovative Facilities Solutions rep to provide an estimated yearly savings your business can obtain by your business. Innovate your Facility with state-of-the-art energy Solutions.