Healthcare
The healthcare market is very diverse in that it includes doctor's offices, hospitals, out-patient surgical centers, walk-in clinics, pharmacies/retail, parking garages and parking lots.
One of the best solutions we have found for office troffers is an LED Door Replacement kit (LDR) that takes only minutes to install. This quick install keeps disruptions to a minimum and keeps most of the dirt from above from polluting a sterile environment. In addition, LEDs virtually eliminate the constant maintenance involved with replacing lamps and ballasts associated with traditional fluorescent fixtures.
Healthcare facilities almost always have expansive parking areas in which utilize outdated HID fixtures that are expensive to operate and require frequent maintenance. By converting these fixtures to T5 fluorescent  or LED you can save serious energy and also have the option of incorporating motion sensors and ambient light controls for even greater savings.
Hospitals and Medical Offices have sophisticated equipment that need to be protected from spikes, surges and sags in the electricity received from their utility. Please refer to our Products > Power Conditioning page to get information on The POWERHOUSE.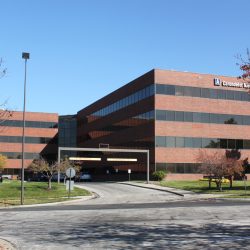 Carondelet Medical Building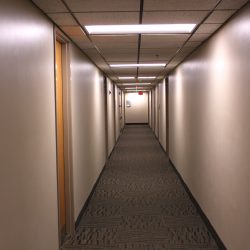 Carondelet Medical Building office interior lighting upgrade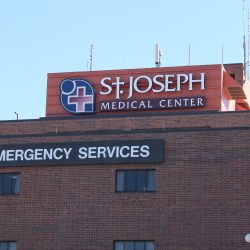 St Joseph Medical Center, KC, MO